The first thing about the T1 that hits you is its bronze surface. This fascinating material is used here for the first time in kitchen design. It shimmers differently in every light and more: no component is like the others. The patterned surface with its clouds and markings can't be figured out and can absolutely not be reproduced. The uniqueness is created by the handiwork and the elaborate treatment of the material that gives it the final touch. Each piece is one-of-a-kind.
FOR EVERYONE WHO REALLY WANTS TO TURN IT UP.
To compare the T1's four induction hobs with conventional hobs would be like pitting a racecar against a family van. The future owner is dealing with a top athlete – and therefore the power should be used accordingly. With a maximum power of 20 kilowatts, the T1 is significantly more powerful than conventional products. Are you cooking for a large group? It's great to have reserves!
HAPPINESS MULTIPLIES WHEN YOU SHARE IT.
Our ancestors gathered around the fire to eat together and tell stories. The T1 by Lohberger also meets this need for socialising. The front is retractable and the kitchen island can be used as a bar. Life is a party: especially when you celebrate around the T1 by Lohberger.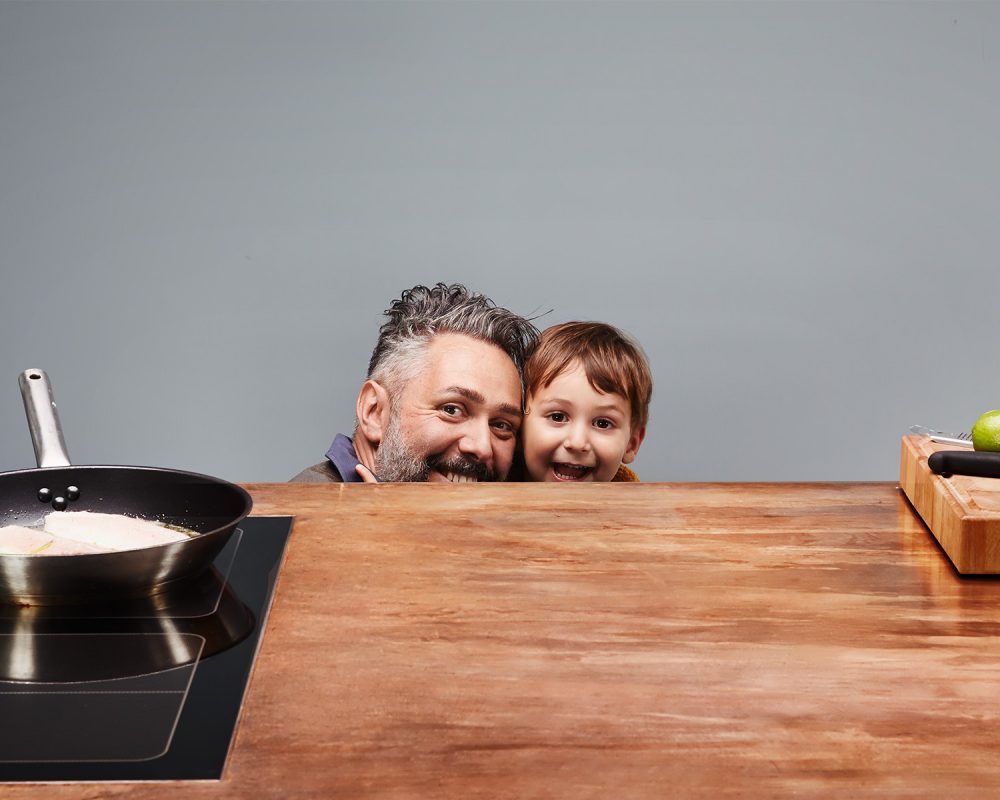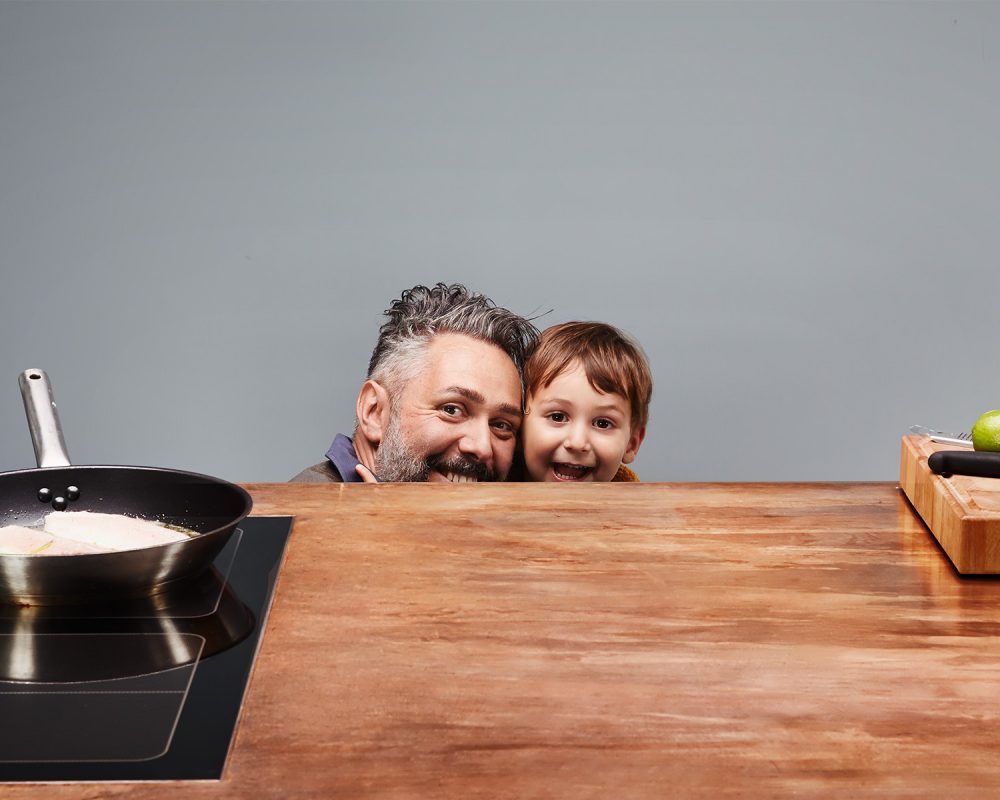 GROW AND THRIVE.

The T1 by Lohberger adapts: for this reason it can easily be height-adjusted to offer the optimal working height to accommodate every user and every style of cooking. The control is electric and progressive. The retractable front panel creates space: because family and friends should join in with the cooking, and socialising begins in the kitchen.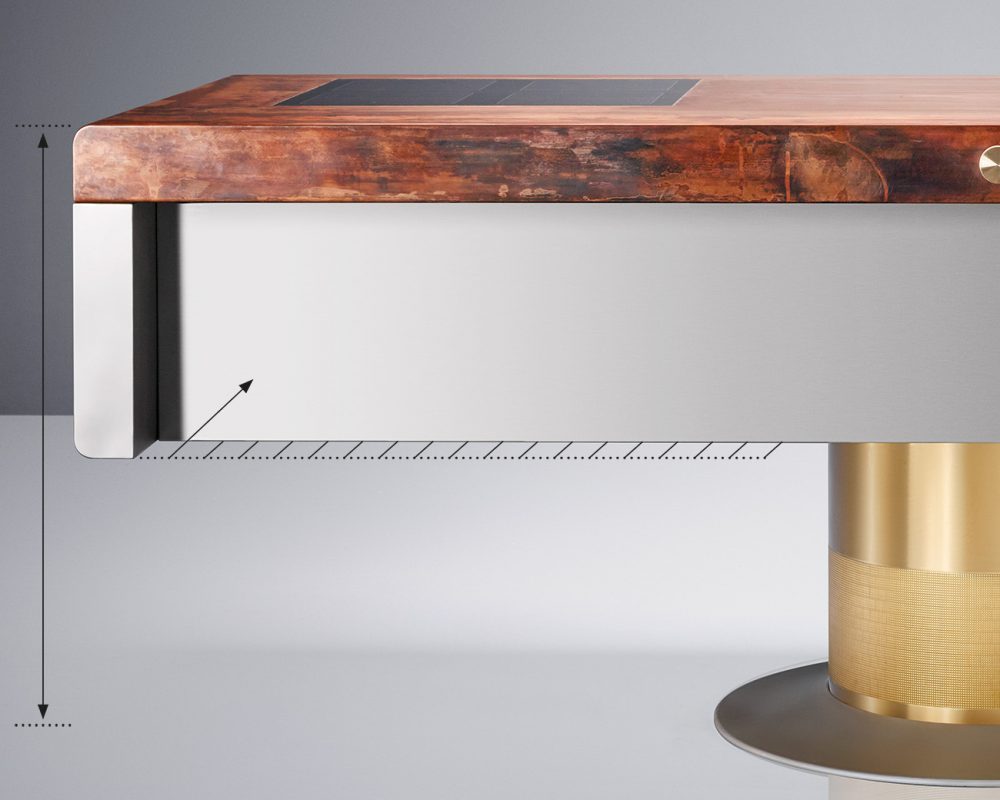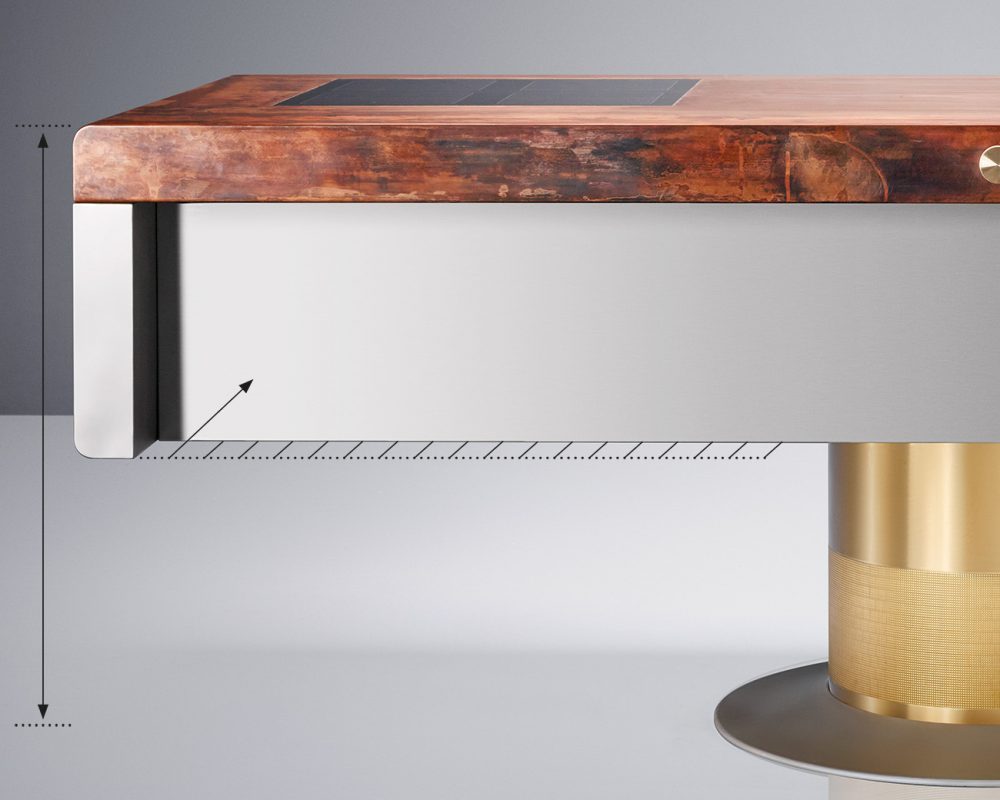 AS STABLE AS THE WINGS OF AN AIRCRAFT.
Depending on the edition, the "wing span" of the T1 totals 3 or 2.40 metres. Although the construction stands on its own, it is absolutely rigid, lightweight and unbreakable – just like the wings of an Airbus. It's no wonder, actually, since the principle is the same: a honeycomb structure inside gives the construction stability while the two high-strength covering layers give it lightness
[unex_ce_button id="content_f5au5qjlp" button_text_color="#c46644" button_font="regular" button_font_size="13px" button_width="auto" button_alignment="center" button_text_spacing="0px" button_bg_color="#ffffff" button_padding="10px 100px 10px 100px" button_border_width="1px" button_border_color="#c46644" button_border_radius="10px" button_text_hover_color="#ffffff" button_text_spacing_hover="0px" button_bg_hover_color="#c46644" button_border_hover_color="#c46644" button_link="http://www.lohberger-t1.com/download/Lohberger_Kuechenbuch_Produktdatenblatt_T1.pdf" button_link_type="url" button_link_target="_blank" has_container="1" in_column=""]Download product sheet [/ce_button]